Leading Provider of Insurance Talent
Insurance Executive Search and Staffing
For nearly 50 years, The Jacobson Group has been connecting organizations with insurance professionals at all levels across all verticals. We provide an array of services including temporary staffing, executive search and professional recruiting.
Looking for Insurance Talent? Get Started Now.


---
Latest From Our Blog
As we near the end of February, it's an ideal time to reflect on your department's 2020 goals and expectations. Has your team made any progress toward achieving those goals? Are you on track to hit milestones?
Read Now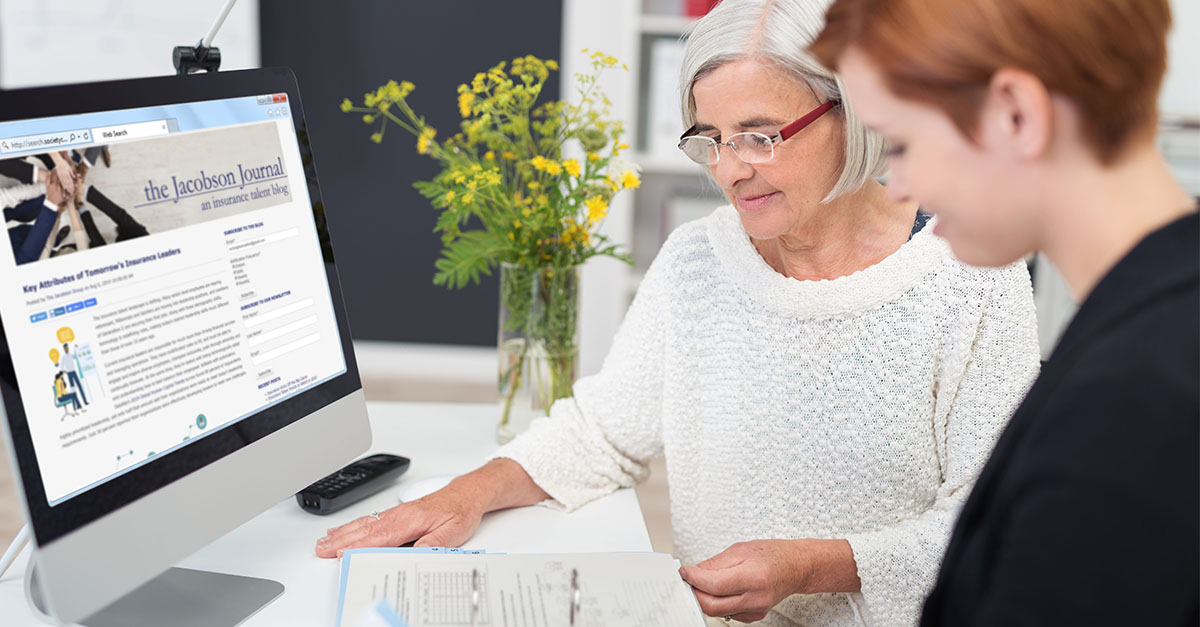 As we enter a new decade, most professionals are reevaluating their career paths and setting career goals. This may mean taking on continuing education courses, getting in line for a promotion or even evolving their management strategies.
Read Now
---
Insurance Recruiting, Executive Search and Temporary Staffing
As a full-service insurance recruiting firm, we are about more than just identifying accomplished professionals within the insurance industry for our clients' permanent and temporary positions. Because we are a niche search and staffing provider, we are invested in the insurance industry and, ultimately, in the success that the talent we provide yields for our clients.

Our solutions transcend the typical insurance talent recruiting services. While we do partner with the industry in executive search and traditional professional recruiting capacities, we also recognize that expanding staffing levels is not always a cost-effective, nor an expeditious enough, solution to meet the talent demands created by the industry's special projects, peak periods and unforeseen needs. Thus, we also offer temporary support across all functional areas and at all levels for insurance organizations nationwide. Whether the need is for one person or a team of people, we can support virtually any workload management or business-critical need both onsite and in a work-at-home setting. When it's essential to leverage specific expertise to meet interim, project-based and consulting-level needs, we can provide subject matter experts with 15 or more years of experience in a variety of industry functions. These tenured professionals include actuaries, senior-level underwriters, CPAs, and many other insurance experts.

Our specialization as insurance recruiters empowers our unique ability to understand our clients and the position-specific requirements necessary for success.
Executive Search
Jacobson provides executive search and selection consulting for insurance leadership positions in all disciplines. We offer a highly-methodical, performance-driven approach and a network of marketplace relationships necessary for a successful executive search.
Temporary Staffing
Jacobson offers temporary support for virtually any staffing need across all functional areas and for all levels. Additionally, we provide access to insurance-specific subject matter experts with the expertise to address consulting-level, business-critical needs.
Insurance Recruiting
Jacobson provides professional recruiting services for a wide range of insurance positions on a direct-hire basis. Our solution is designed to source, recruit, screen and present insurance candidates, who closely align with client requirements.
Get Talent Now — Partner with Jacobson
Unmatched insurance expertise coupled with an extensive industry network and proven commitment to achieving success for our clients bring Jacobson's full suite of talent solutions to the forefront of the insurance recruiting industry.

To learn how we can provide the insurance talent you need to achieve success, contact us today.
©2020 The Jacobson Group